The covid-19 pandemic has brought new demans for the digitization of healthcare. The increasing use of data as well as the need for online connectivity make life easier for doctors and patients alike, but at the same time present a number of challenges healthcare facilities face.
Data security is a priority for healthcare facilities
With new demands on both data availability and online security, Czech hospitals are increasingly addressing the reliability and security of their data infrastructure. Na Homolce Hospital in Prague, which announced a public tender for a backup data center supplier during the second half of 2021, also decided to improve the security of its data. Despite the exceptionally high requirements for technical parameters and quality of supply, we managed to win this tender. At Altron, we designed the Mobile DC container data center model for Na Homolce Hospital, which offers an ideal backup system solution for the operation of IT infrastructure in various conditions. Its advantage is easy scalability, so it can grow with increasing client demands.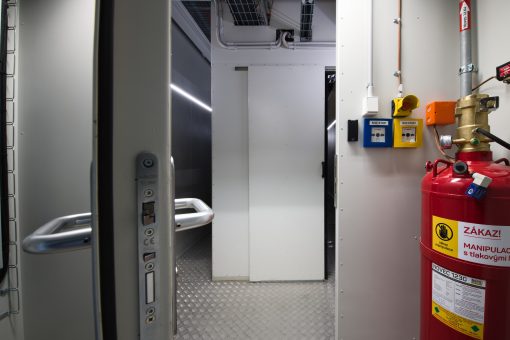 Why a mobile data center?
Medical facilities or other institutions are usually located in city centers and it is not easy for them to expand their premises. All the more so because data centers have specific ventilation and cooling requirements that are often difficult to achieve in existing buildings. Mobile data centers can effectively address these barriers without the need for major building modifications. The Mobile DC, which we designed for the Na Homolce Hospital project, uses state-of-the-art technology and combines innovative methods with proven topological solutions. Specifically, the MDC 30 contains 6 racks for IT technology and offers an output of 45 kW. For data centers, efficient cooling is another important parameter. In the case of the MDC 30 model, this is ensured by an advanced system of roof cooling units, which use direct DX evaporation and freecooling. At the same time, this enormously powerful system is very quiet, which is hugely important for operation in a medical facility.
Secure capacities for IT technologies
We have adapted the mobile data center solution to the requirements of Na Homolce Hospital in order to eliminate security risks and at the same time ensure sufficiently high capacities for IT technologies. Thanks to the installation of a new mobile data center, we have drastically increased the resilience of the data system to all security threats. Even in the event of a hacker attack, the backup center can protect data and immediately restore the hospital's critical infrastructure.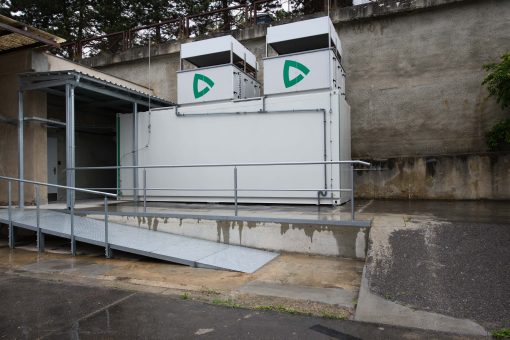 Why choose MDC 30?
The MDC 30 is not an ordinary data center. It is an extremely efficient data solution, especially for companies and institutions which cannot build their own server room. The MDC 30 mobile data center combines the advantages of quick installation, low operating costs, high energy efficiency and easy scalability. If you need to acquire or expand your own data center and without building a new server room, MDC 30 is the perfect solution.